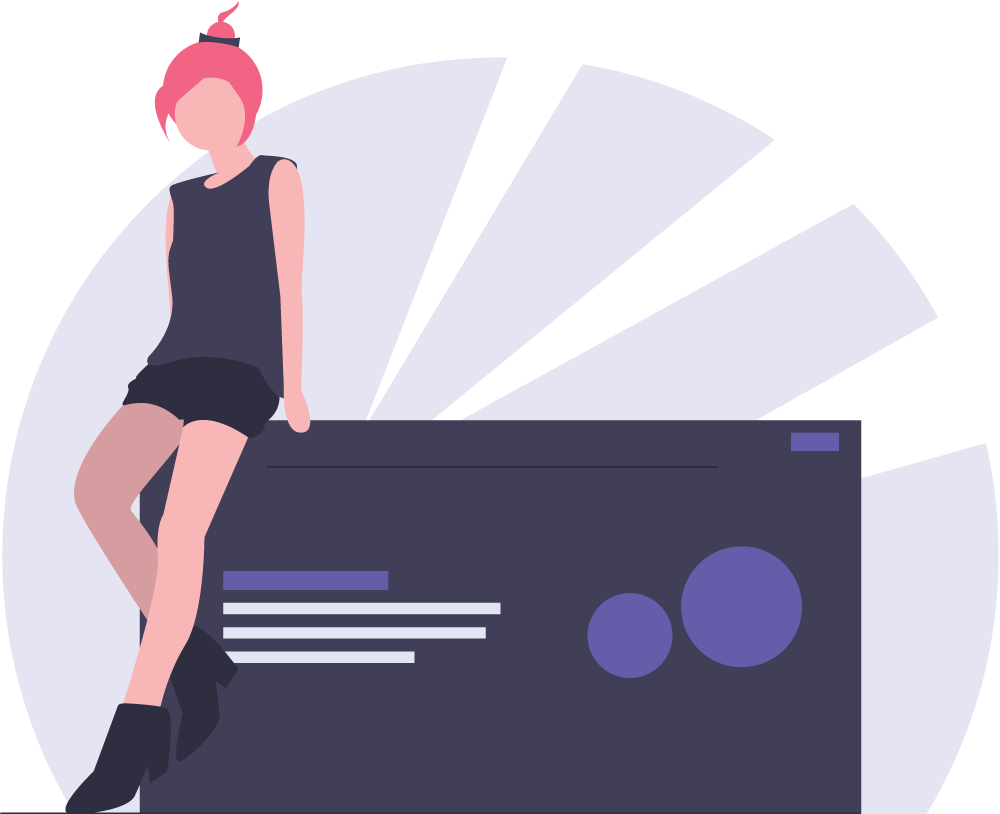 Get a loan that goes beyond tuition
Ascent's Short-Term Loans are 12- and 24-month consumer loans designed for students attending training programs at lower price points.
Short-Term Loans allow students to receive tuition funding for eligible programs from $1,000 - $6,000. With Ascent, more of your students have access to straight forward loans and student-friendly payment options.
Unsecured consumer loan
School certified
90% average net funding amount
Dischargeable in bankruptcy
Minimum loan amount: $1,000
Maximum loan amount: $6,000
.25% ACH discount for automatic payments
5% Origination Fee
Interest Rate for 12-month loan term: 9%
Interest Rate for 24-month loan term: 11%
Students can make interest-only, principal
& interest, or $25/month repayment until
3 months after graduation
12-month or 24-month term
Grace Period: Program + 3 months
Deferment & Forbearance available for all
Ascent loans (up to 12 months)
School manages refunds & withdrawals via
certification portal
The school must meet Ascent's QualityAssurance criteria
Non-Title IV
Program at approved school
Program tuition less than $6,000
Borrowers must be at least 18 years of age or at the age of majority in the respective state of residence. Must have a U.S. based address.
Solo borrowers & co-signers must be U.S.Citizens, permanent residents, or haveDeferred Action for Childhood Arrival(DACA) status; temporary U.S. residentsable to demonstrate legal authorizationto reside in the U.S. (as described in theProgram Guidelines) while attending aneligible institution may be eligible with aqualified co-signer
Ascent Student Application: At a Glance
From the partnership page, when the student enters in their email and desired program, a new tab will open. The first section for 1: School will auto populate with the school, program, and location (attending Remotely if Online or Applicable campus(es) will populate).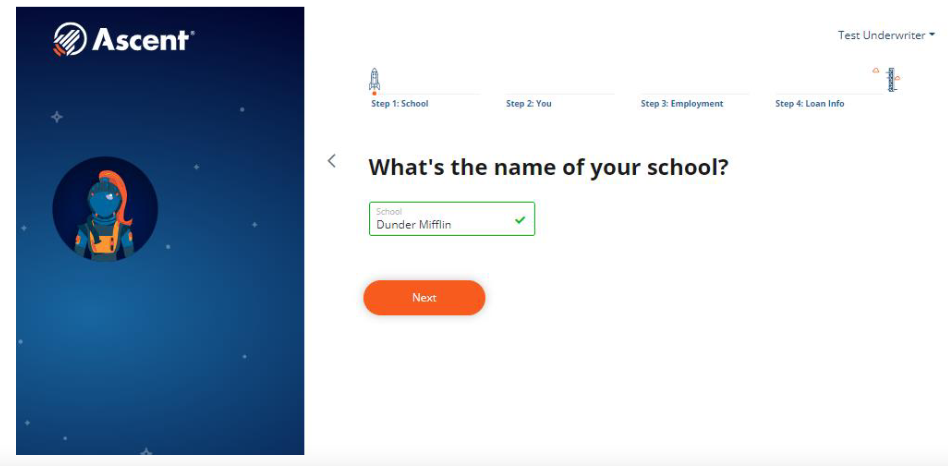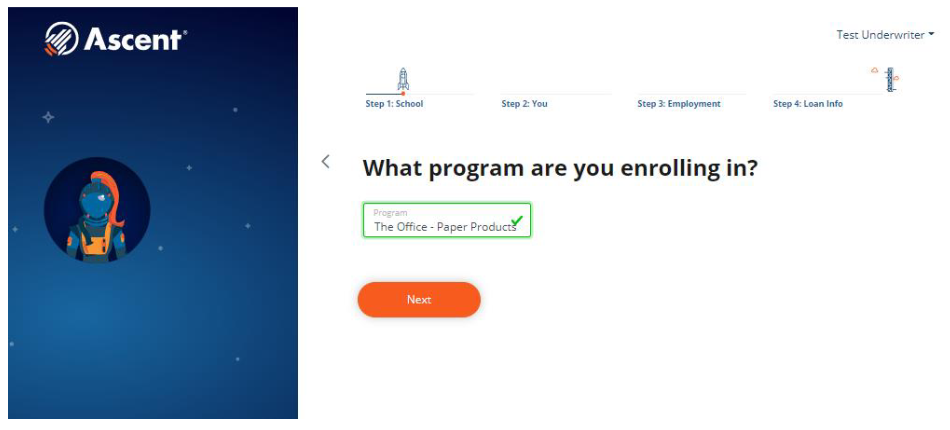 In Step 2:Youis where Ascent gathers allthe personal information of the applicant. The first step is requesting the student's name.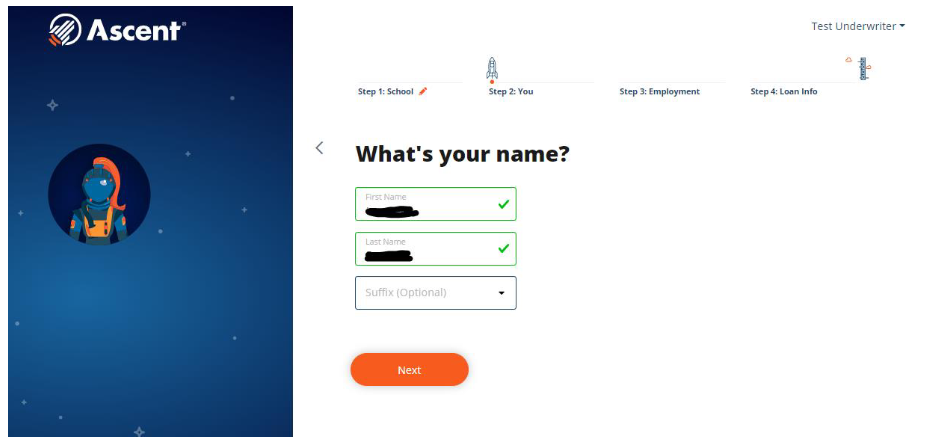 The next screens will ask for phone number, citizenship, personal email and SSN. The next screen asks for student's permanent address.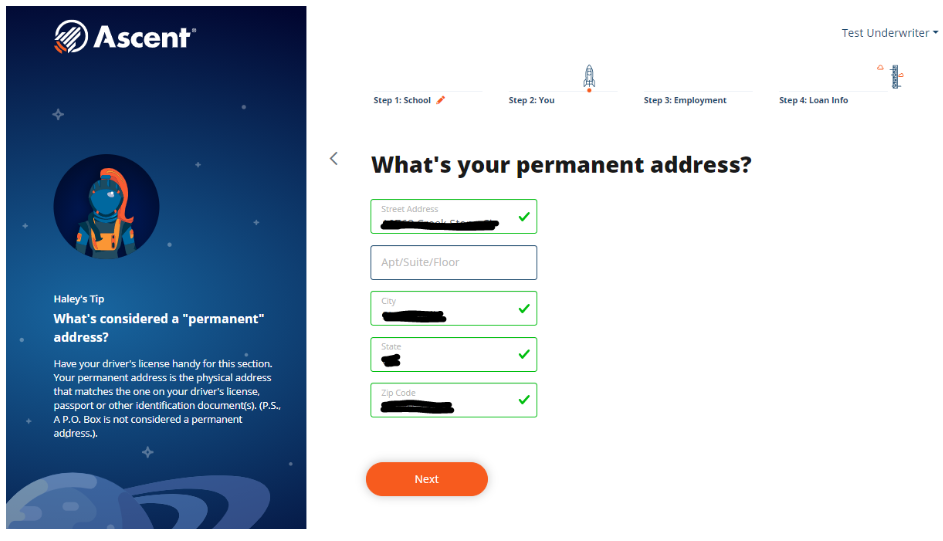 The following screens are for the mailing address and birth date.
It is important to note that the borrower must be considered a legal adult. In most states the legal adult age is 18, however, some states are 19. We are unable to accept applications from 16-and 17-year-olds that are emancipated and wish to apply with anadult cosigner.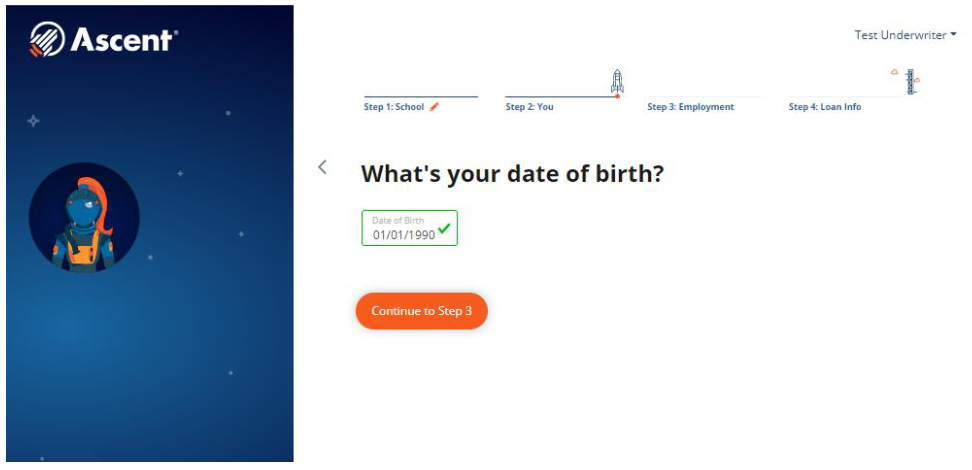 In Step 3: Employment–this information is for data collection purposes only. This information is not used for an approval or denial. Ascentasksfor highest level of education, ifthe student currently employed,and what is their estimated annual income.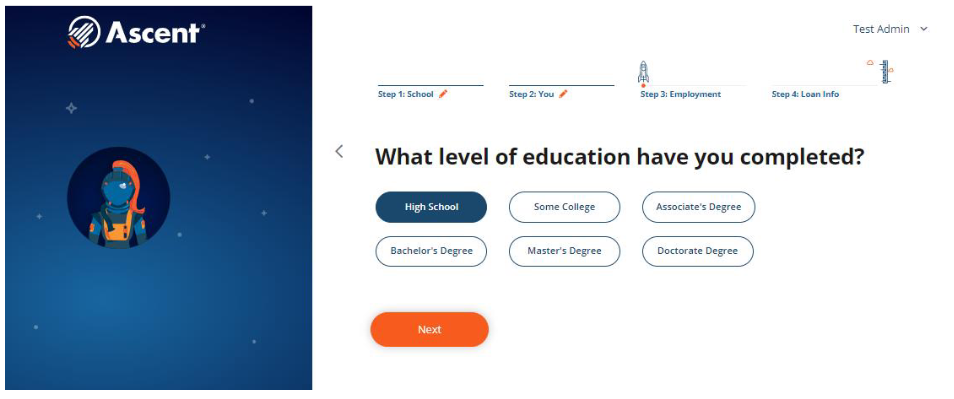 In Step 4: Loan Information, the first question is asking will be the start date of the program be within 90 days of the day they are applying? This is important because Ascent needs a credit report to not have more than 90 daysin-between the two dates based on requirements set by our lending bank. If a student tries to apply for a program more than 90 days, please advise them to wait to apply until they are in that window of time.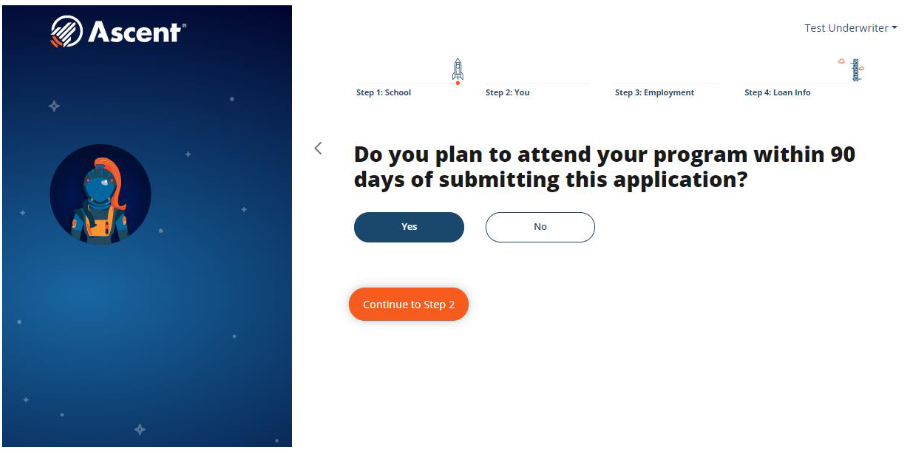 Next, the student will enter in their requested amount of tuition. The Ascent minimum is $2,000with the maximum set by the school for each program. If a student tries to enter less than $2,000 or more than the maximum, then an error message will appear.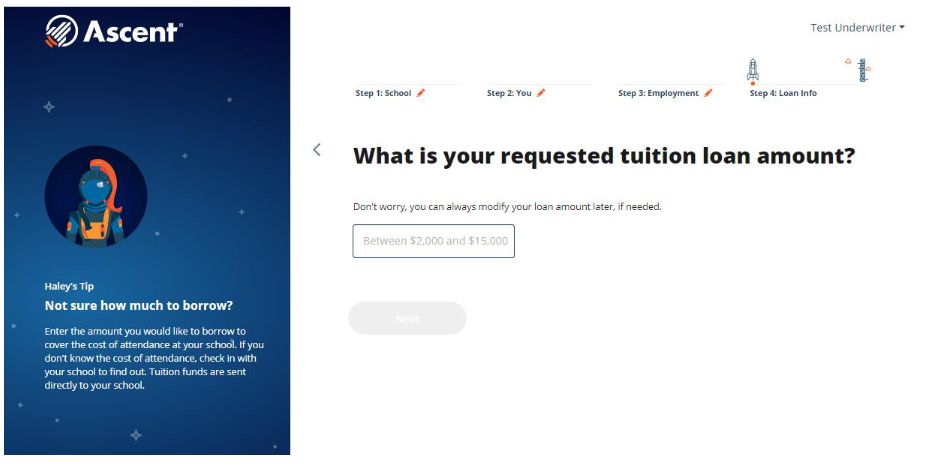 If cost-of-living is available for the program, then it will appear on the next screen for student to enter in desired amount from $0 to the maximum set by the school for each program.
On the next screenis the option for the student to add a cosigner. If they want to add a cosigner, then the next screen will ask if the cosigner is present. If they are then they can fill out their addendum. If the cosigner is not present, then the student will input the cosigner's name, phone number, and email for the addendum link to be sent to them electronically to complete. If the cosigner option is selected, then a credit decision will not be made until both parties have completed their portion of the application.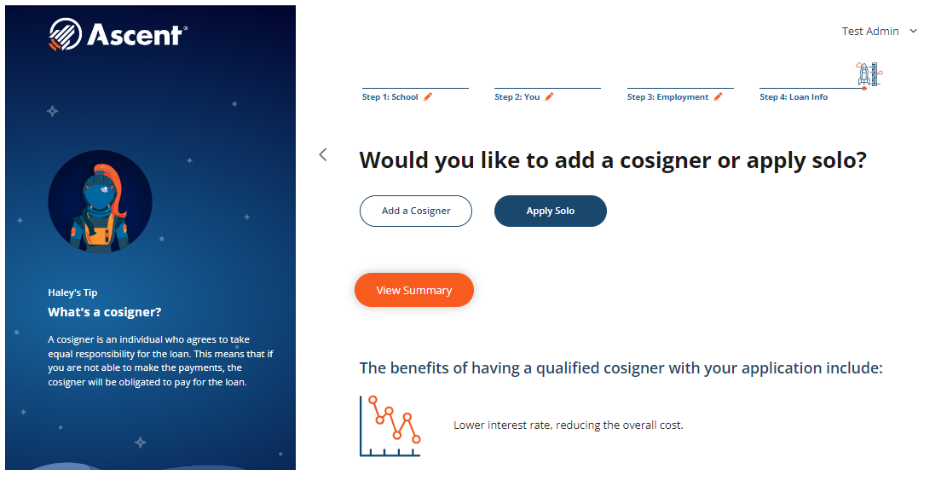 The next screen is the Application Summary. All the information that has been selected can be changed. Once the student selects the Continue to Disclosures button
then the student will not be able to go back to make any other changes.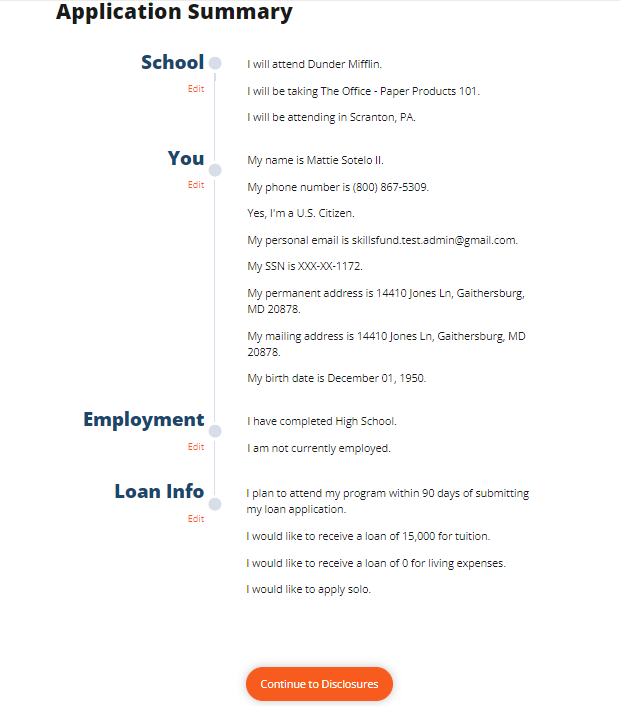 This screenshows the different disclosures that Ascent must get the student's permission for to send emails, reach out by phone if needed, use DocuSign and other terms and conditions. UP UNTIL THIS POINT NO CREDIT HAS BEEN RUN.A student must check the box to allow us to run their credit before it can officially be submitted. This is a soft credit check. It is considered to be in the prequalification phase.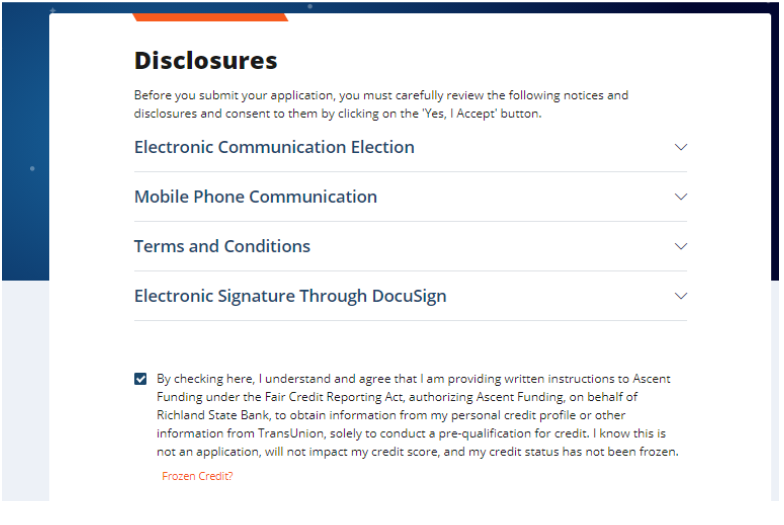 The student must select Yes, Accept toproceed.It is from this point that a credit decision is being made. It takes approximately 30 –60 seconds for the decision. If they are approved,then they will see this screen: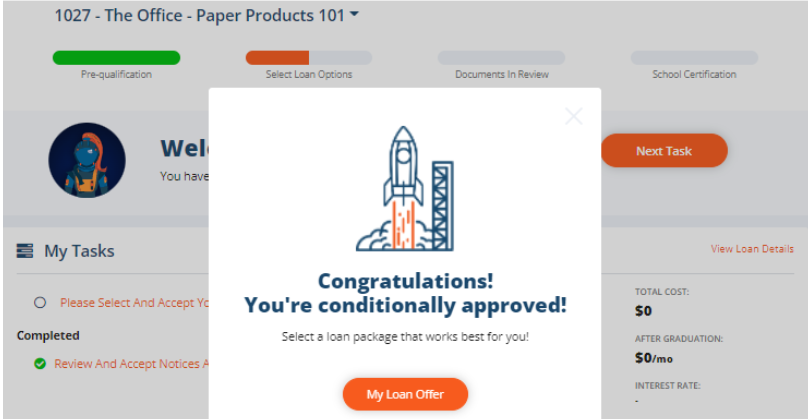 Once a student is approved, then they will see the different repayment terms and types available for their program. They will select the option that is the best fit for them. Below is a sample of what a selection would look likeonce a student has selected what repayment term and type.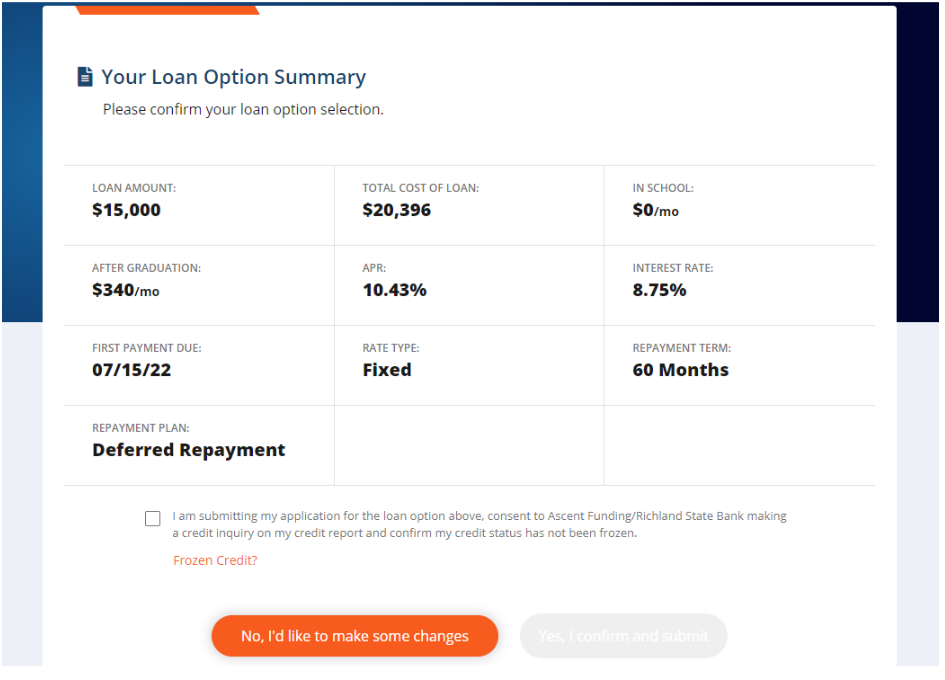 It is at this point where the soft credit check turns into the hard credit check. The student must check the box and Yes, I confirm and submittoprogress in the application.

The initial approval disclosures are created based on the application date and length of program. It provides the student a snapshot of what their repayment amount will be, their finance charges and total cost of the loan. The finance charge = the 1-time origination fee (5% of total loan amount) + calculated interest based on the assumption the student will make on time payments for the full loan term. If a student can pay off
their loan inxmonths, the student will only be responsible for x months of interest since interest accrues daily from the date of disbursement.

The student must accept the approval disclosure in order for application to progress. Ifthey decline then the application will immediately cancel.

The next screen the student will see the remaining tasks to complete forloan to reach certification. Every student will have to provide a reference (alternative contact) and elect whether they want to enroll in autopay with our loan servicer Launch Servicing. There are two tasks that may populate based on if certain things were flagged in the application.Upload Identity Documents: anyone who is a not a US Citizen will have to upload their applicable documentation. Also, if there is a mismatch with their SSN or name from the application and TransUnion credit reportsUpload Address Verification: this usually happens when there is a mismatch from the application entered in the application and their TransUnion credit report
This is a screenshot of what the application dashboard looks like with pending tasks.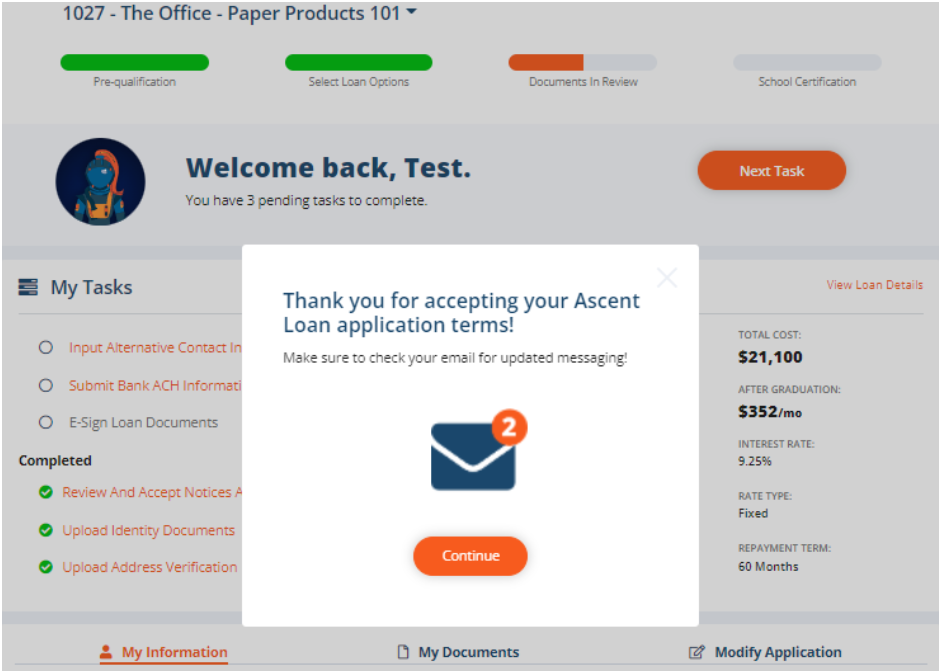 Once those tasks are complete then the student will DocuSign their credit agreement.

After the credit agreement is signed and all tasks have been completed, this message should appear:Most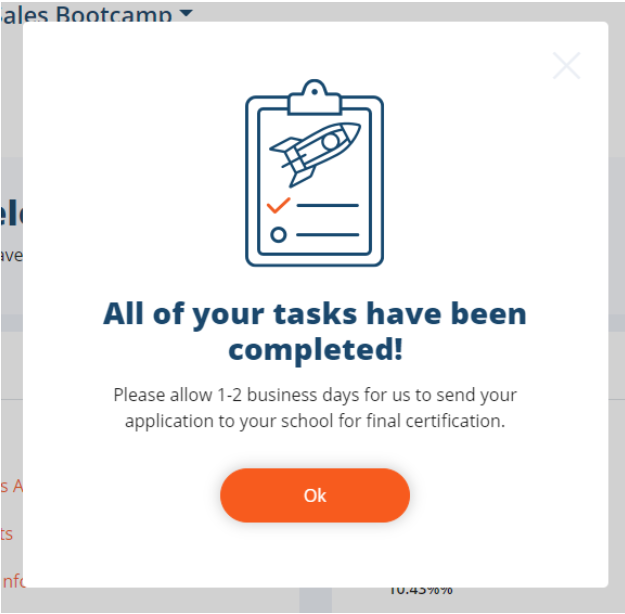 Most often it will be sent to certification that same evening. There are some instances where an Underwriter must review documents and/or the application as a whole. This is the reason why it says allow 1-2 business days for review.
If a document uploaded was not sufficient /incorrect/ invalid –Underwriting will reach out to let the student know by email and most often a phone call. The application can't progress until the open items are resolved.
The next steps will be that you will see the loan in the Certification View in the portal. This means the loan can now be certified. Once certified the student will have revised approval disclosures generated and will receive an email once those are ready. If they accept the disclosures then the loan will be ready for disbursement. If they decline then the loan will move to a cancelled status.
Radical transparency: Students know their fixed interest rate, term options, and exact repayment amounts before they even apply.
Peace of mind: Students know their school is committed to their success and that the program has been approved by Ascent.
Student-friendly fine print: Students can make interest-only payments during program, a grace period after competition, ACH discounts, and no pre-payment penalties.
Ease of application: 10 minute application, credit decisions just minutes after applying, and no teaser rates to trick students.